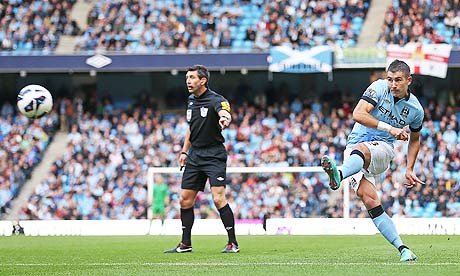 Photograph courtesy of The Guardian
An impressive win over Sunderland in the lunch-time kick-off has quashed doubts that City are not up to the same standard that they were last season. Alexandar Kolarov was a menace down the left all game and the strike-force of Carlos Tevez and substitute Sergio Aguero always looked dangerous, meanwhile Micah Richards produced a performance reminiscent of his rampaging efforts last campaign.
However the big difference between the City of the start of last season and the side that are playing at the moment is that they have lost the clinical edge that got them so many goals this time last year. The Sky Blues had 26 shots with 16 on target as an inspired Simon Mignolet made save after save.
Roberto Mancini acknowledged that his side were sloppy in front of goal: "I think in the first half, we missed two or three chances like other games but we had a good performance. I think also in London against Fulham we did very well and against Stoke. Every game is difficult in this moment. I am happy because we got a clean sheet, scored three but also because of our performance."
Mancini was also understandably delighted with Kolarov after a brilliant performance playing on the left wing. The Serbian international got past Carlos Cuellar time and time again and his final ball was excellent, scoring one from a trade-mark free-kick and setting one up with a magnificent left-footed cross from which Sergio Aguero headed past Mignolet. .
Sunderland conceded an unlucky third goal from a Milner free kick, taking a deflection off the wall and finding a home at the back of Sunderland's net. The goal was just rewards for a City side that dominated the match throughout and never looked like taking anything other than three points out of the game.
The Citizens will be very hopeful of winning a second Premier League title come May, but until today they hadn't looked like a title winning team; dropping points against Liverpool, Stoke and Arsenal. They also looked out of sorts in a lucky 2-1 win at Fulham last weekend.
Other teams have improved their squads since last season and City are no longer out on a limb at the top of the table with city rivals United. Chelsea have splashed the cash on players such as Eden Hazard, Marko Marin and Oscar and United have brought in Shinji Kagawa and Robin Van Persie.

Mancini has only added Jack Rodwell and Javi Garcia to his senior squad and players who performed well last season like Gareth Barry and Balotelli have been off form so far this season. The enigmatic Italian striker was withdrawn after 56 minutes today and Mancini said that 'he can play better'.

Despite a slowish start to the season City were on top form today and looked like a side capable of defending their Premier League title.